NZ Business Magazine - Meet The Geospatial Wizards
Posted on March 1, 2016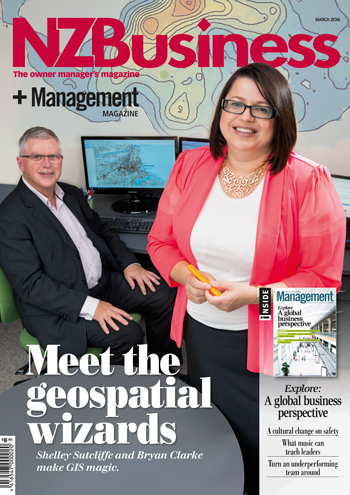 Vicinity Solutions are excited to be on the cover of this month's NZBusiness magazine, helping spread the message of geospatial to NZ!
Vicinity has thrived despite its ongoing battles to survive, like many businesses, in the quake stricken city. NZBusiness was keen to showcase a cutting edge technology and tell the story of both the strengths and sacrifices needed that go to making a successful start-up.
Part of that success can be associated to the directors, Bryan Clarke and Shelley Sutcliffe's, experience and part of it to the size of the growth in a relatively new industry, one in which they have existed since its birth.
The Directors are both delighted and humbled by the company's recent success. Bryan said of the news, "For us [being on the cover of NZ Business] is not only recognition of our standing in the geospatial community but also that we're venturing into new territory."
Shelley said "I genuinely want to see 'geospatial as a concept' understood by more people in the world, so anything we can do [for NZ Inc.], to increase the understanding of the geospatial world is great. This to me, is a step in the right direction. "
This comes at critical time for the company as it begins to release a new type of Business Analysis.
While the GIS industry has been quite focused on asset management, utilities, road networks, traditionally the domain of Governmental Organisations and Infrastructure companies; increasingly, industry recognition is causing many private organisations, who need to maximise their bottom line, to try new things and see the benefit from new types of analysis.
You can download the article: